Political partners and interested countries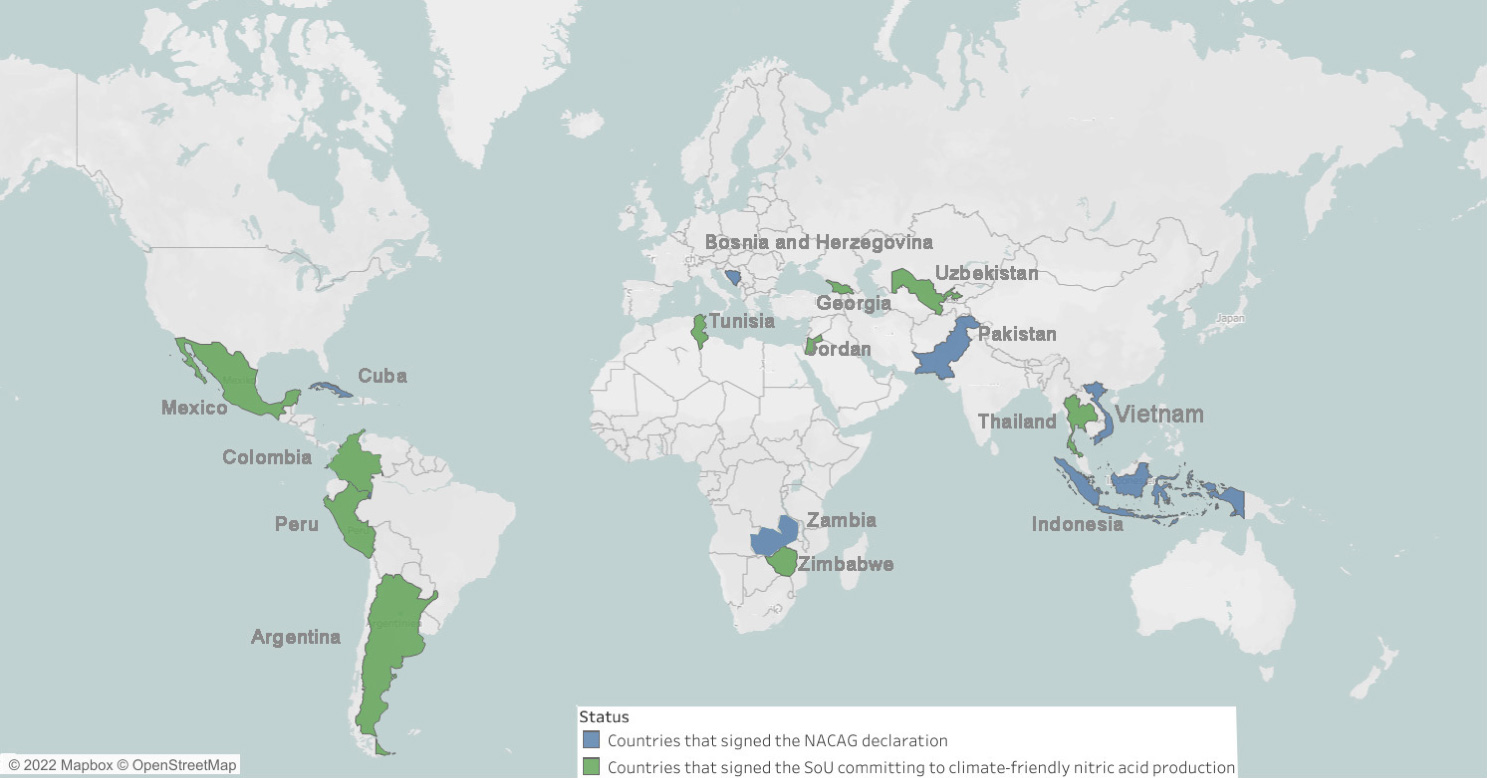 Why join NACAG?
During the UN Climate Change Conference in Glasgow (COP26), countries committed to pursuing efforts to secure a global net-zero by mid-century and keep global warming below 1.5 degrees Celsius. Countries have to significantly lower their emissions and raise climate ambition. This could be done in the framework of Nationally Determined Contributions (NDCs), commitments of the signatory countries to reduce greenhouse gas emissions and thus contribute to the goals of the Paris Agreement. Under the Paris Agreement, countries are obliged to update their NDCs every five years, raising their climate ambitions (the so-called "ratchet mechanism").
State of cooperation
Already six NACAG partner countries (Jordan, Pakistan, Tunisia, Zimbabwe, Colombia, and Mexico) have included the nitric acid sector in their NDCs. Tunisia, Georgia, Mexico, Uzbekistan, Peru, Argentina, Zimbabwe, Colombia and Jordan have committed to take political measures to reduce nitrous oxide emissions from nitric acid production.
Nitrous oxide abatement from nitric acid production
GHG mitigation through abatement of nitrous oxide emissions from nitric acid production is considered low-hanging fruit, as those emissions can be abated technically easily and at a low cost compared to other greenhouse gas abatement options. Technical abatement costs range from €0.50 to €5.00/tCO2eq, depending on the employed abatement technology and technical plant characteristics. By helping partner countries to overcome initial structural and investment barriers, NACAG provides technical and financial support to partner countries.
NACAG's offer
NACAG provides technical support to all interested countries, advising them on the technical possibilities of nitrous oxide emissions reduction and political options to secure long-term abatement. ODA countries that have committed to take political measures to reduce nitrous oxide emissions from nitric acid production by signing the Statement of Undertaking are eligible for financial support.
At all stages of cooperation, NACAG advises partner countries on technical and political matters and might also assist in developing the policy option best suitable to regulate the sector in each particular country. Simultaneously, NACAG works with nitric acid producers aiming to secure nitrous oxide emissions reduction.