In the upcoming months, NACAG partner plant operators will launch tenders for the installation of N2O abatement and monitoring technology in nitric acid production plants. The NACAG finances the purchase and installation of N2O abatement and monitoring technology as well as supporting services (e.g. training, project management) in production facilities in eligible countries that have officially committed to climate-friendly nitric acid production. Altogether NACAG is in contact with around 30 countries, 14 of which have signed the NACAG declaration, demonstrating support for the initiative's goals. Eight countries have already signed the Statement of Undertaking, committing to climate-friendly nitric production.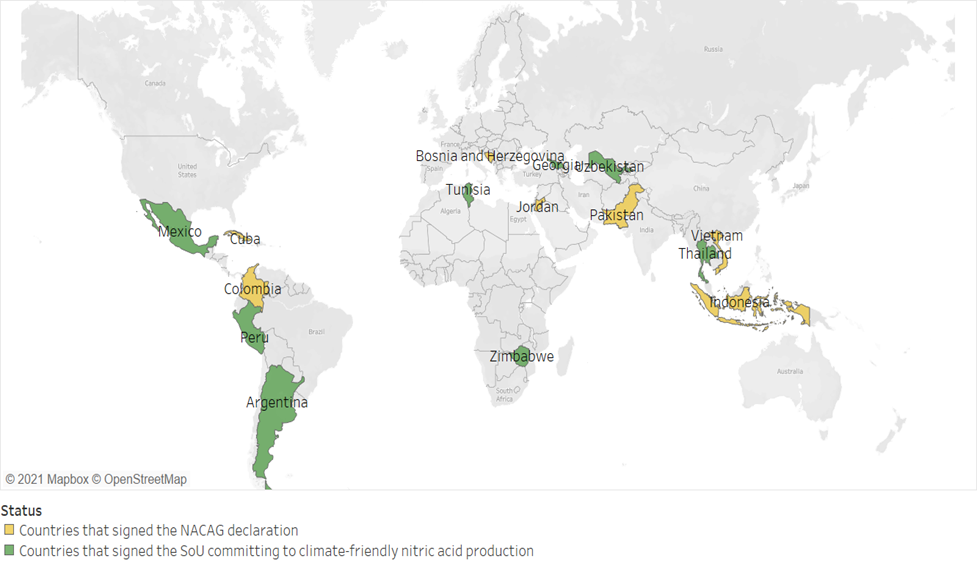 Upcoming tenders for climate technology
Nitric acid plant operators in these countries (marked green) will receive financial support through NACAG to purchase and install N2O abatement technology – secondary or tertiary catalyst solutions – along with respective monitoring equipment. Most of them will launch tenders in the nearest future. Sable Chemicals in Zimbabwe and Group Chimique in Tunisia are expected to announce respective tenders in the upcoming months.
The tenders will be looking for candidates who can provide dedicated N2O abatement and monitoring technology, as well as necessary engineering and/or construction works and overall project management. Abatement and monitoring technology, as well as other project-related works, might be tendered in separate lots. However, it is possible and very welcomed that interested catalyst producers, engineering firms, project developers and project managers, and monitoring equipment providers may group up to build a consortium or conclude agreements to cover the complete set of requirements. The tender process will be conducted according to the country's national public procurement regulations and standards where the tender is launched. All tenders will also be announced on the NACAG website.
Webinar for interested stakeholders
In the nearest future, NACAG will organize a webinar for interested stakeholders and potential bidders, at which it will provide more information on the upcoming tenders. Please register for the webinar by sending an email to: contact@nitricacidaction.org.