The Nitric Acid Climate Action Group
Nitrous oxide (N2O) is a highly potent greenhouse gas, with a global warming potential 265 times that of carbon dioxide (CO2). One major source of N2O emissions is the manufacture of nitric acid, which is used for producing nitrogen-based fertiliser. Although effective abatement technologies are available at comparably low cost, N2O from the production of nitric acid continues to be emitted into the atmosphere in most countries in the world.
In a new drive to realise this mitigation potential, the German Federal Ministry for the Environment, Nature Conservation and Nuclear Safety (BMU) has launched the Nitric Acid Climate Action Group (NACAG). The NACAG initiative aims to assure global abatement of N2O emissions from nitric acid production. Its vision is to incentivise the installation of appropriate abatement technologies in all nitric acid production plants worldwide.
The initiative provides all governments and plant operators with guidance and information on technological and regulatory issues regarding N2O abatement. Moreover, NACAG makes available financial support for the installation and operation of abatement technology. This financial support is subject to the condition that partner countries take full responsibility for the mitigation activities after 2023 – for example in the context of their Nationally Determined Contributions (NDCs). This political commitment by partner countries to take abatement into their own hands ensures the sustainability of the initiated activities and the long-term transformation of the sector.
According to our estimates, the global nitric acid sector has an average annual emission reduction potential of 167 Mio tCO2e until 2030. The NACAG programme is equipped with financial resources to directly enable the reduction of 20 Mio. tCO2e from 2021 until 2025.
Governments, plant operators, further international donors as well as other stakeholders are welcome to join this global action group and, in so doing, to contribute to the worldwide transformation of the nitric acid sector.
Tunisia, Argentina, Mexico, Zimbabwe, Indonesia, Viet Nam, Cuba, Pakistan, Thailand, Jordan, Georgia, Uzbekistan, Colombia and the Federation of Bosnia and Herzegovina have signed the Declaration of the NACAG. They thereby express their support for the goals of the alliance.
Tunisia, Georgia, Mexico, Thailand, Uzbekistan, Peru, Argentina and Zimbabwe have also signed the Statement of Undertaking, committing themselves to permanently reduce nitrous oxide emissions from nitric acid production. These countries are thus the first that are eligible for financial support under NACAG. Grant agreements have already been signed with plant operators in Tunisia and Zimbabwe.
Global overview of nitric acid producing countries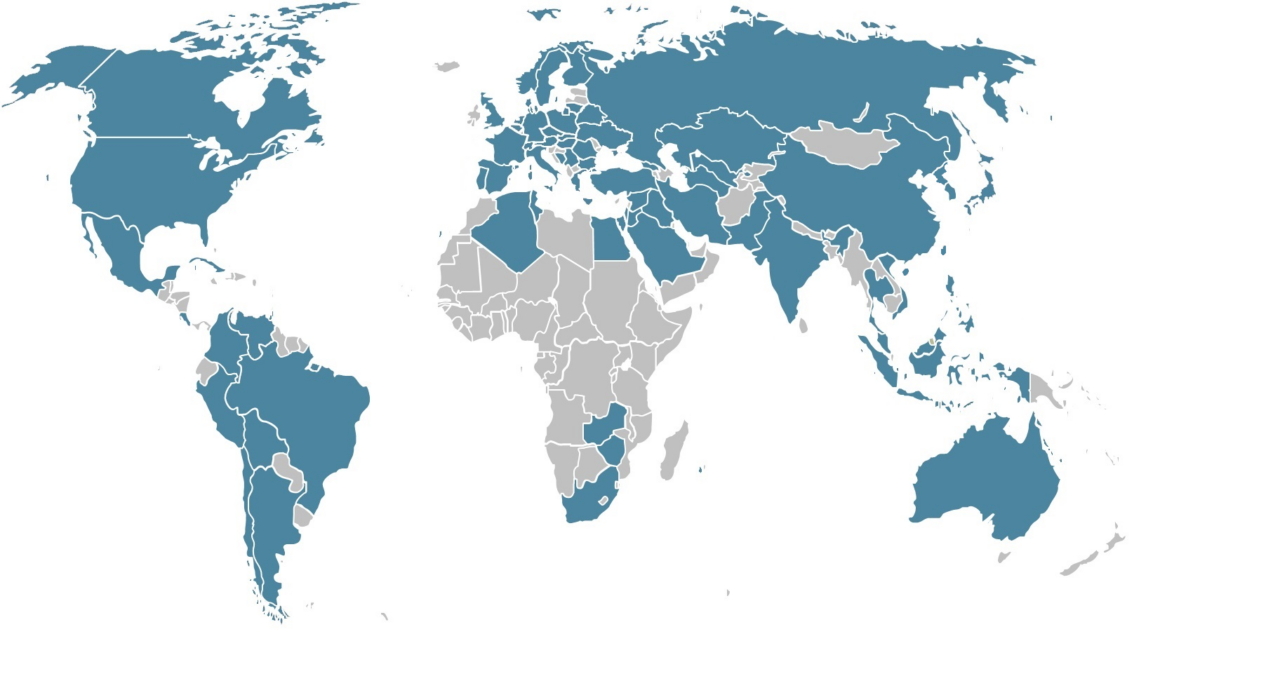 Number of nitric acid plants worldwide: ca. 580